Gearing up for a pretty serious weekend, started with my buddy Dave coming to get me in his sweet new car. Dave had just got a brand new off-the-lot black Kia Forte 5 hatchback, it's got a 6 speed manual transmission, power everything (even heated seats and air conditioning!), and just looks so nice! Needless to say we were stoked to get started on a very ambitious and adventurous weekend. We got on the road to Meagan's place, she's the best host and best cook around! Meg lived pretty close to where the race was going on, and I was stoked at being able to see her again. She had some wicked pasta, pork, and grilled vegetables ready that I ate in outrageous quantities (fuelling up for a weekend with a doubles shot of racing – what I thought would end up being more than 120km), and then a prompt bed time.
It was nice to be calm and close to the race course the morning of, and with such awesome food! That morning was an excellent chance to sleep in (until 8, wahoo!), and spend some time with Meg and Dave. We got to the race course, and luckily Cycle Solutions was a sponsor of the event, so I finally had tents and a trailer to hang out at, with food, drinks, company, and tools! There was a bit of an exhibition area; teams and clubs with tents set up, as this was a whole weekend festival.
The atmosphere was great, but the race wasn't so much for me. After being called up by name to the start line of the "Pro Race" (which made everything worth it – I mean who doesn't want to be called Pro in front of other racers, spectators, and some cameras??). About 100m into the race I realized that the "Pro" pace up the hill (about a 15minute climb up hill right off the start) was pretty ambitious, and maybe I should just ride my best and save my legs for the planned marathon race tomorrow. The course was pretty crazy though! Hills like no Ontario race, I could see Wasaga beach all the way across the bay from the race course! I had a fun time riding the terrain, but I wasn't racing. Huge props to my buddies and teammates on the course though!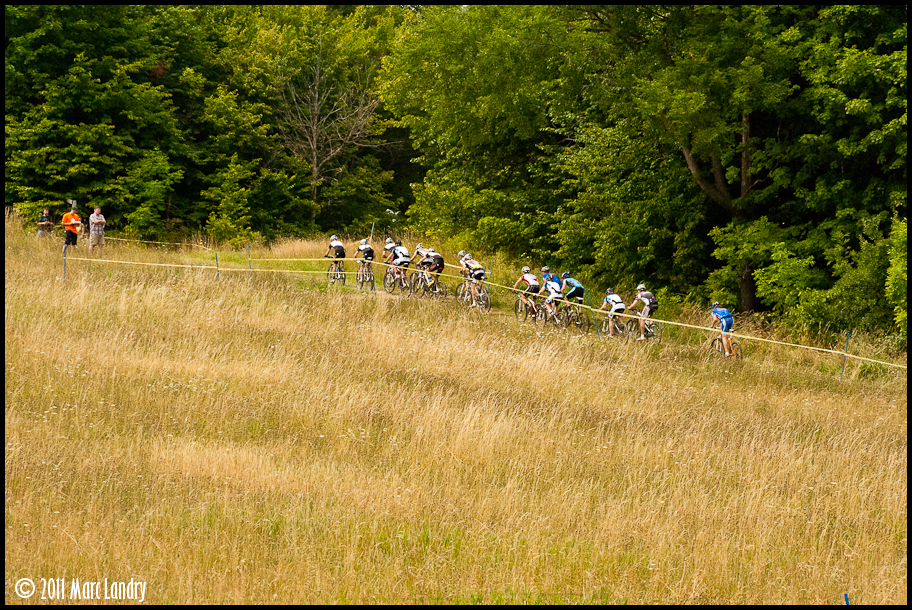 Can anyone pick out which rider I am? At least I'm still in the photo frame!
That night Meagan fed us well, and it was early bed time for Dave and I. We woke up, made some serious oatmeal (my favourite pre-race meal), and began to pack to the car for the marathon. Dave was the first one outside and all I heard was "Oh my god". I rushed outside and couldn't believe what I saw. Somebody had smashed the rear window of Dave's beautiful new car in; it was parked right beside the house too. Needless to say that was the unfortunate ending to our weekend. Poor Dave. Meagan was shocked, and said nothing like that happened before, but there was nothing that we could do other than clean up the broken glass everywhere, pack the car very carefully, and drive home.
That marks the end of my big race season of 2011, though I am incredibly stoked for the University Cup Bike Race season, and school comes soon too. Unfortunately with the coming of school means the dreaded tuition monster, which I have to sell my bike for. For anybody who is interested it up for grabs for $2500, a hand-made in Canada Xprezo. This bike took me to where I wanted to be in terms of my race season, and on the trails. Post up if you are interested, price includes a free paint job any colour you want! It sucks to have to sell my baby like this but life happens, and at least I hope that somebody else can enjoy it as much as I do!